Welcome,

Through out years of silent operation and after five years of action, VU Heritage Foundation has achieved extremely encouraging results.

First, not to mention our appreciation to Prof. Trị Đình Trần and his graduate students at the University of California - Los Angeles and undergrad students at UC-Irvine, Father Nguyễn Văn Tịnh and friends at the Universität Bonn, Rev. Thich Quang Thuong and members of Hong Danh Pagoda, Nguyen Duy Hai and Love Connection members, Dr. Nam Tran and Pétrus Ký Alumni Association - Northern California, Mr. Vu Van Loc and staff at the IRCC - San Jose, Vu Duy Thuc and internet experts at Google Inc., Jessica Tran and software engineers at Apple Inc., Pham My Linh and physicians at Stanford University Medical Center, ....

Currently, our business is stabilized so that we have time to plan for the future. We are writing a paper "Guilt and Shame: The Universal Issues of People" to submit to the U.S. Dept of Health for funding. In addition, we would also like to get funds from the U.S. Dept of Education to research on the topic "Why Immigrants' Children Deny Their Backgrounds after Success: Causes and How to Deal with Them."

To prepare for the post-communist in Vietnam, we will disseminate many articles around the topic: "Why the Vietnamese Concentrate on Fame rather than Virtue," and "The Word 'Loyalty' in Vietnamese Culture," in which we will define what a patriotic Vietnamese should be? "Living under the Communist, the Vietnamese Become Violent: All Conflicts Can Be Resolved Even by Deaths." Are the lives of Vietnamese people too cheap? In addition, we will do more research around the topic "Vietnamese People under the Eyes of the Foreign Experts" and "Overseas Vietnamese under the Eyes of the Sociologists."

As a charitable organization operating by laws and regulations, we may be limited to the number of experts but are not limited to assist those who need our help. In other words, we do not have many professionals to serve clients effectively in all fields, but do not refuse to assist individuals or families in crisis where our staffs or volunteers work. In Vietnam, we do not aim at any groups of people or discriminate against any others; conversely, we assist those who are in needs even though they are Vietnamese or Chinese, Kinh or Montagnards, Wounded Warriors from the Republic of Vietnam or Disabled Veterans from the North. We treat them all as valuable human beings.

In addition to the spending programs we have already planned, in case our staff or volunteers encounter a person or family in crises; we have emergency funds to assist.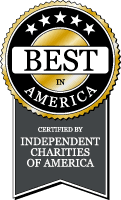 We operate our foundation by laws and follow by mission statement. We only hope that we are a piece of cloth to bind up the open wounds of people.

Friends Of The VU Heritage Foundation

We respect our clients and do not discriminate between them
on the basis of religion, region, and race




There are no administration costs. All donations go directly to the recipients







© Copyright 2016-2017 Friends Of The VU Heritage Foundation. All rights reserved
4457 Park Paxton Place - San Jose - California 95136 - USA
A Public Benefit Non-Profit Organization No. 3429996
Calif. Charity Registration No. 0139 619 7376
Federal Tax ID No. EIN 45-4160199

Website created by Hoa Vu and is solely responsible for its content.
Last update: 06/25/16


Mission Value Services Support Us Board of Directors