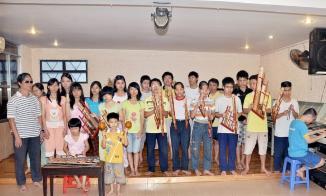 Thầy Nguyễn Quốc Phong và các học viên
cư ngụ tại Mái Ấm Thiên Ân
122 Nguyễn Ngọc Nhựt
Phường Tân Quý, Quận Tân Phú, Saigon


With the advancement of computer and internet, the visually impaired individuals have the opportunities to have access to the modern technology assisting them with studying, working, entertaining and communicating.

Recognizing the important role and the benefits that computer technology contributes to the blinds; since 1999, Friends Of The VU Heritage Foundation has associates with Thiên Ân Shelter to provide a Computer Lab with PCs and electro-mechanical devices. This equipment assists them to facilitate their lives and relate to others .They are not only able to live independently but also contribute to the society where they live. So far, there are a few hundred students trained in this lab, having graduated and gone back to their families and others who are furthering their education. Among them, many have degrees from colleges, gotten jobs, and have married as have other sighted graduates.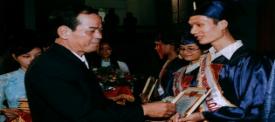 Các em khiếm thị tốt nghiệp đại học

"Computer technology becomes the bridge that leads students into a fascinating world of colors and brightens up their futures," said Oanh Nguyen, a member of the shelter. In fact, with a common computer and with time, the blind are able to set up several specialized software so that they can freely use them for different purposes, from drafting and printing paper to searching for data, listening to music, watching movies, and social networking. Moreover, with several simple steps, the blind can activate the apps that specialize the devices, such as Apple or Samsung, and use them skillfully.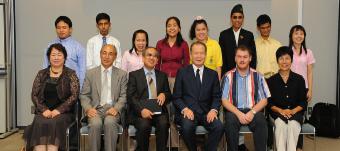 Ban điều hành và nhân viên

"Thanks to the computers, our learning becomes simpler and easier." One student stated. "I can write down notes and take exams in the class." He continued, "Teachers who don't know Braille could also teach students and monitor their academic progress." Moreover, students could use the Internet to search for information that the resources in the shelter doesn't provide. Computers also bring plenty of job opportunities such as typewriting, translating and office work to the blinds.

Today, Computer Lab contributes to the world with free specialized software such as MATA's Talking Dictionary; English - Vietnamese dictionary, MATA Braille Translator (translating words automatic into Braille), MATA Keyboard (also provides directions for computer users and writing skills for students). Currently, the Lab is developing a learning program that assists students to use devices to create apps that supports Vietnamese people on IOS and Android.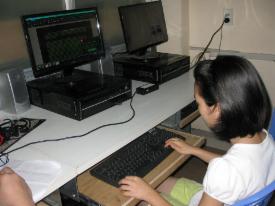 Một em khiếm thị đang học chữ nổi

"Life never closes all the doors on you." The achievements in computer technology, and what Thien An Shelter's Computer Lab is providing has contributed a wide path and a firm bridge that leads visually impaired people confidently to walk into the world.






We respect our clients and do not discriminate between them
on the basis of religion, region, and race





There are no administration costs. All donations go directly to the recipients

© Copyright 2016-2017 Friends Of The VU Heritage Foundation. All rights reserved
4457 Park Paxton Place - San Jose - California 95136 - USA
A Public Benefit Non-Profit Organization No. 3429996
Calif. Charity Registration No. 0139 619 7376
Federal Tax ID No. EIN 45-4160199

Website created by Hoa Vu and is solely responsible for its content.
Last update: 06/25/16


Mission Value Services Support Us Board of Directors