The reason we've chosen to honor Father Trương Bửu Diệp with our scholarship is because of his inspirational life. He was born into a poor family and his mother died when he was a toddler. As an adolescent, he was moved to a foreign country, learned a new language and adapted to another culture. He succeeded in education and became a priest. He was not only a role model for Catholics, but for non-believers as well. He died a martyr for Christ and his flock.


Chú thích: Khi chọn tên cho quĩ học bổng Trương Bửu Diệp, chúng tôi không có tham vọng vượt ra ngoài khả năng chuyên môn cũng như tầm hiểu biết; và cũng không có ý chia sẻ ảnh hưởng với những hội đoàn bạn. Ngược lại, chúng tôi nối kết (link) với những tổ chức này để tăng thêm ảnh hưởng cho họ. Hơn nữa, chúng tôi hướng vào người ngoại quốc để giới thiệu một gương thánh nhân người Việt với một đời sống đầy nhiệt huyết; và đã tuẫn tiết vì đạo và vì đoàn chiên.

Cha tử vì đạo nên được Chúa thưởng công cho cuộc đời ngài. Cha thường làm phép lạ nên người ngoại đạo gọi ngài là "Ông Cha Hay Làm Phép Lạ".
The Trương Bửu Diệp Scholarships have been established by Rev. Nguyễn Văn Tịnh since 2007 to assist children who live in rural and remote villages in order to get a chance for an education.
Many children who live in mountainous territories in Vietnam are as smart as we are; however due to financial difficulties, they are unable to go to school to learn how to write and read their native dialects or languages. With these scholarships, we'd like them to become literate and will contribute their knowledge to society as the scholarships' motto: "Bloom, where you are planted!"

Next year, 2017, we plan to grant 85 scholarships, each worth 120 USD for every elementary student. We requested our contact people to grant at least 20% of scholarships go to non-Catholic or non-pure Vietnamese receivers. They are distributed to the 7 territories below:




About
Martyred Rev. Francis Trương Bửu Diệp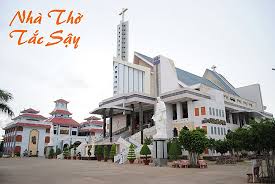 Thánh đường Tắc Sậy (phải) và Nơi Cha Diệp an nghỉ (trái),
nằm trên Quốc lộ 1A (tuyến Bạc Liêu - Cà Mau), thuộc Giáo phận Cần Thơ,
và nằm trên địa bàn của xã Tân Phong, huyện Giá Rai, tỉnh Bạc Liêu.


We Respect Father Diệp It's Not because of the Way He Died but the Life He Lived.

Chúng tôi tôn sùng Cha Diệp không bởi cách chết của Ngài nhưng bởi đời sống của Ngài.

- Hoa Vu

Father Francis Trương Bửu Diệp was a Vietnamese Catholic priest, born in 1897 in Vietnam. His mother died when he was still a child and he traveled with his father to Cambodia. As a young adult, he entered the seminary and was ordained in 1924, after completing Philosophy and Theology studied at the Phnom Penh Major Seminary in Cambodia. He had established many parishes throughout Vietnam and Cambodia, such as Bà Đốc, Cam Bô, An Hải, Đầu Sấu, Chủ Chí, Khúc Tréo, Đồng Gò, Rạch Rắn,…[1]

In 1945, during his ministry in Vietnam, the country was torn apart by war. The communists came down harshly on the Catholic community as the war broke out. He was advised by a superior to leave his parish for a safer location. Father Diệp refused, saying, "I will live with my flock and if necessary, I will die with them." The following year on March 12th, Father Diệp were killed.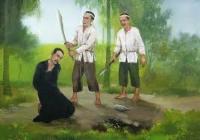 Fr. Diệp Was Tortured and Killed

According to the folklore news circulated in parishioners, on a day of March 12, 1946, Father Diệp was arrested along with over 70 parishioners at Tắc Sậy church. All were herded into a locked rice storehouse.[2] According to Mr. Giacôbê Huỳnh Văn Lập, 76 y/o, they stacked up the straw all around the rice paddy storehouse in order to burn them alive, but Father Diệp stood up to fight for the people and at the same time comforted the prisoners.

He was asked to go out to converse with the authority three times and the third time he did not return. One night, parishioners saw that the door was opened and they escaped. That's why among prisoners, they believed Father Diệp had sacrificed himself to save them.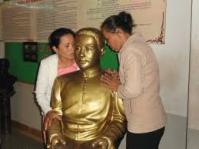 Fr. Diệp Statue and His Believers

Then a few days later his body was found rotting in a pond. His body was naked with several horizontal slashes on his head.

On the issue of who killed him, according to a summary of Father Diệp's profiles (now resting on top of his tomb) states that he was arrested "because of disputes between the sects" but does not specify who had killed him. Currently there are two sets of ideas; that either the Việt Minh (the Communist) or the Japanese had done it.[3]



Fr. Diệp's Bone

A Tắc Sậy parishioner stated, "Father Diệp assisted the poor, the orphans and the elderly." He added, "Nowaday through miracles, he continues to heal, help and bring comfort to those who venerate him."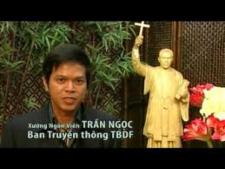 Testimonials about Father Diệp's Miracles
Phép Lạ của Cha Phanxico Trương Bửu Diệp

In fact, many witnesses have spoken about obvious miraculous healings and unexplained events after the martyr's death.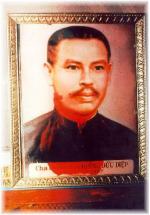 An Obvious Miracle: a Bloody Photo
Bức Ảnh Đẫm Máu

Now almost 65 years later he is venerated by Catholics, Protestants and non-Christians, who line up every day before his tomb to pray, ask for a blessing or seek healing.

Pilgrims come in to honor Father Diệp at his tomb, that has brought more than 30,000 people to Tắc Sậy parish, to offer respect and gratitude to the holy man. Many stated that the martyred priest is responsible for healing of physical ailments, increased prosperity and good fortune. The current parish priest Father John Baptist Trần Đức Hùng led an outdoor anniversary Mass with 18 other priests, marking the day of Father Diệp's martyrdom 70 years ago.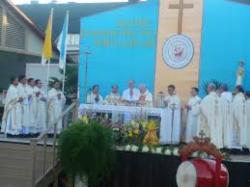 An Outdoor Anniversary Mass

Now pilgrims line up to touch his tomb and statue; and several non-Christians give gifts of incense, candles, money, foods and offer prayers. During the anniversary celebration, believers brought suckling pigs, roast pork, cake, flowers and fruit and placed them on tables in front of the shrine. Many local boarding houses were filled to the max. A 60-year old non-Christian from Saigon stated that her 50-member group was fortunate to find a place to sleep on the steps of the rectory. "Father Diệp cured me soon after I visited his tomb," she said, referring to the severe rheumatoid arthritis that had previously prevented her from walking properly. Since then, she comes annually to thank him, bringing friends who also seek physical and spiritual blessings.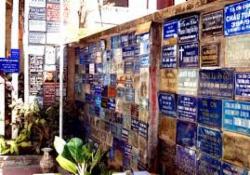 Gratitudes to Fr. Diệp

Thousands of pilgrims including foreigners have left expressions of gratitude in response to prayers. Also they have erected many small stone slabs engraved with the words, "Grateful to Father Diệp". placed on the walls surrounding the church. Many overseas Vietnamese also come and pray to the martyred priest. Father Hùng said that the church has become a popular pilgrimage site in the region since the 1980's, after reports of response to prayers is circulated among the people. It was officially recognized as a pilgrimage site by the diocese in 1996.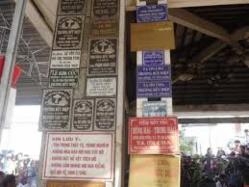 Thanks to Fr. Diệp

On February 24th, 2004 Bishop Emmanuel Lê Phong Thuận of Cần Thơ diocese celebrated Mass, to mark the beginning of construction of a 2,000 seat parish church to replace the current structure built in 1963. The Tắc Sậy Catholic community, established in 1925 with 200 parishioners, now has 1,500 Catholics.[4]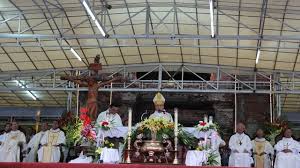 An Outdoor Solemn Mass

According to believers, Father Diệp has already performed two posthumous miracles. His remains were lost until he appeared in a vision and disclosed the location. During the construction of the new shrine, a local company delivered materials to the building site unexpectedly. The shrine officials did not know who paid for it. The company representative pointed to a picture of Father Diệp and said that he had paid. Many also claim to have been healed after praying to him and visiting his shrine.[5]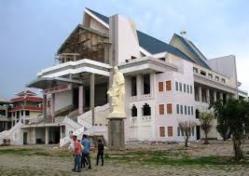 "During the construction of the new shrine"

Stories like this have contributed to spreading the news all over the Vietnamese around the country, as well as abroad.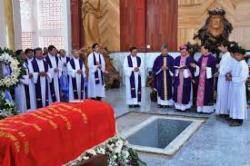 Fr. Diệp's Grave

In addition to altars and chapels that were built and dedicated to him in the provinces of the Mekong Delta, many Vietnamese Catholics living abroad continue to call on the martyr for his blessing and intervention.

One example is that of Rose and Ben Hinahon, who live in San Diego, California, owners of a shop that made a big profit after praying to Father Diệp. The Hinahons were able to overcome a deep financial and spiritual crisis.[6]

After this the husband-and-wife team decided to devote a lot of their time to encourage devotion to Father Diệp and collected accounts of graces received by those who invoke him.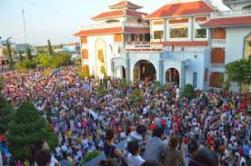 "Pilgrims Attending Outdoor Holy Mass"

Ref.

[1] Tiểu sử Cha Trương Bửu Diệp
[2] Cánh Đồng Truyền Giáo
[3] Giáo xứ Đa Minh
[4] Asia News
[5] Asian Journal
[6] Asian Journal




Tắc Sậy Catholic Church

We respect our clients and do not discriminate between them
on the basis of religion, region, and race




There are no administration costs. All donations go directly to the recipients







© Copyright 2016-2017 Friends Of The VU Heritage Foundation. All rights reserved
4457 Park Paxton Place - San Jose - California 95136 - USA
A Public Benefit Non-Profit Organization No. 3429996
Calif. Charity Registration No. 0139 619 7376
Federal Tax ID No. EIN 45-4160199

Website created by Hoa Vu and is solely responsible for its content.
Last update: 06/25/16


Mission Value Services Support Us Board of Directors