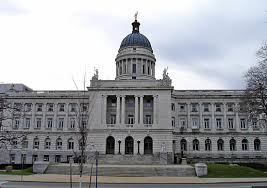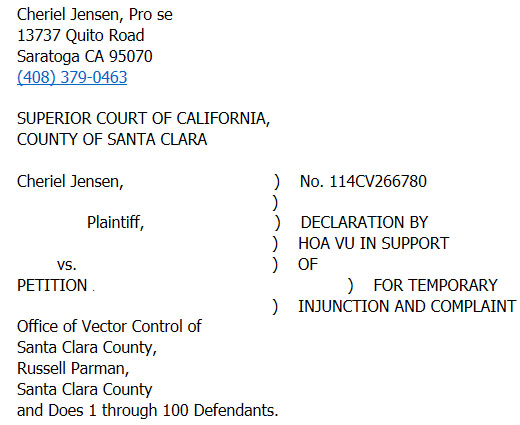 _______________________________________________________

I, HOA VU, a resident of San Jose declare as follows.
I have been extremely sensitive to WNV pesticides by a series of events beyond my control:

1.    In 1960, at the age of 4 when we lived in Binh Tuy, Vietnam.  The U.S. government organized a program called "Exterminate Malaria".  They sprayed DDT in our house.  It happened every year for three years.

2.    In 1966, at the age of 9.  Our family lived within 1 mile from the U.S. military air base in Bien Hoa, Vietnam.  My family saw a huge U.S. military cargo plane fly over our heads.  We went outside to look on sky. When we were still waiting for the plane to come back (about 10 minutes later), when we saw several watery spots appearing on the faces of every one of us.  My eldest sister, even though she was 14 years old, was intuitive and felt that this sign was dangerous.  She told us to go inside the house to take refuge.  On the same day all of us experienced headaches, nausea, vomiting and/or bleeding noses.

My mother was diagnosed with uterus cancer in 1974, my father with rectum cancer in 1997, my elder sister with breast cancer in 2010 and I had symptoms of lymphoma.  My eldest sister, who was 14 years old, has chronic fatigues disorder that has been diagnosed by her physician.

We have unconfirmed exposure to the defoliants the Americans used.

3.    On 08/23/2011, the Vector Control Agency sprayed on our zip code (95136).  My current family hurriedly left this area before the fogging.  After 1 week we came back and felt dizzy, nauseated, and had severe cough.

4.    On 09/14/2011, Vector Control District sprayed on our house again.  We were in a hurry to leave and stayed far away for 2 weeks to be safe.  When we came back, we had to lock ourselves inside our house for over 1 month because our symptoms would return if we went out.

5.    On 08/28/2013, Vector Control Agency sprayed on King Road (fogging #7).

6.    On 09/04/2013, Vector Control Agency sprayed on King Road again (fogging #8).

After 3 weeks (09/23/2013), when I stopped by Kelly Park, a few miles from the sprayed area mentioned above, I still experienced rash, headache, dizziness, and very uncomfortable feeling like influenza. The pesticides from atmosphere did not go away after one day as VCD personnel stated. 

During the  March time frame of 2013, the Vector Control District sprayed at Almaden Lake where our family went out for a walk so that we had to go to the North side of the city, Kelly Park.  Around May, the Vector Control District sprayed on this area then we had to drive 18 miles to the West side of the county, Cupertino Community Park.  After Vector Control District sprayed in Cupertino area June 5th 2014, we have no place to go for exercise.

Presently we have to lock ourselves inside the house because there is no place in Santa Clara County that is pesticide free. Public areas or parks that VCD has prayed since 2013 still disturb us when we stop by and get out of the vehicle.

Several time in the past after WNV spraying, I've experienced headache, nausea, coughing, rash, itchy eyes,... and I had to see my physician for these symptoms. My doctor agreed with me that pesticides not even disturb but could kill citizens as well as mosquitoes.

Last but not least, by looking at the spraying schedule since 2013, it came to my attention that VCD focused on densely populated areas.  I request VCD stop fogging pesticides in areas that have concentrations of Southeastern Asian ethnic minorities.

I hereby plea with this court to stop Vector Control from continuing to poison the environment in which we live.  I am very sensitive to pesticides and need these pesticide spraying to stop.

I DECLARE, under the laws of California and the United States, under penalty of perjury, the foregoing is true and correct as to my knowledge, recollection and belief.

Signed on February 11, 2015 in the City of San Jose by Hoa Vu.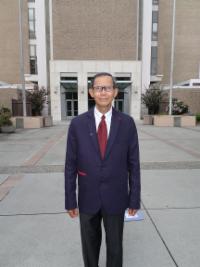 Hoa Vu
In front of Superior Court
San Jose, California
On hearing date: 10/24/2015






© Copyright 2016-2017 Friends Of The VU Heritage Foundation. All rights reserved
4457 Park Paxton Place - San Jose - California 95136 - USA
A Public Benefit Non-Profit Organization No. 3429996
Calif. Charity Registration No. 0139 619 7376
Federal Tax ID No. EIN 45-4160199
Tel: 408-644-6983

Website created by Hoa Vu and is solely responsible for its content.
Last update: 04/01/17


Mission Value Services Support Us Board of Directors